April 23, 2021 | 10:00AM to 12:30PM EST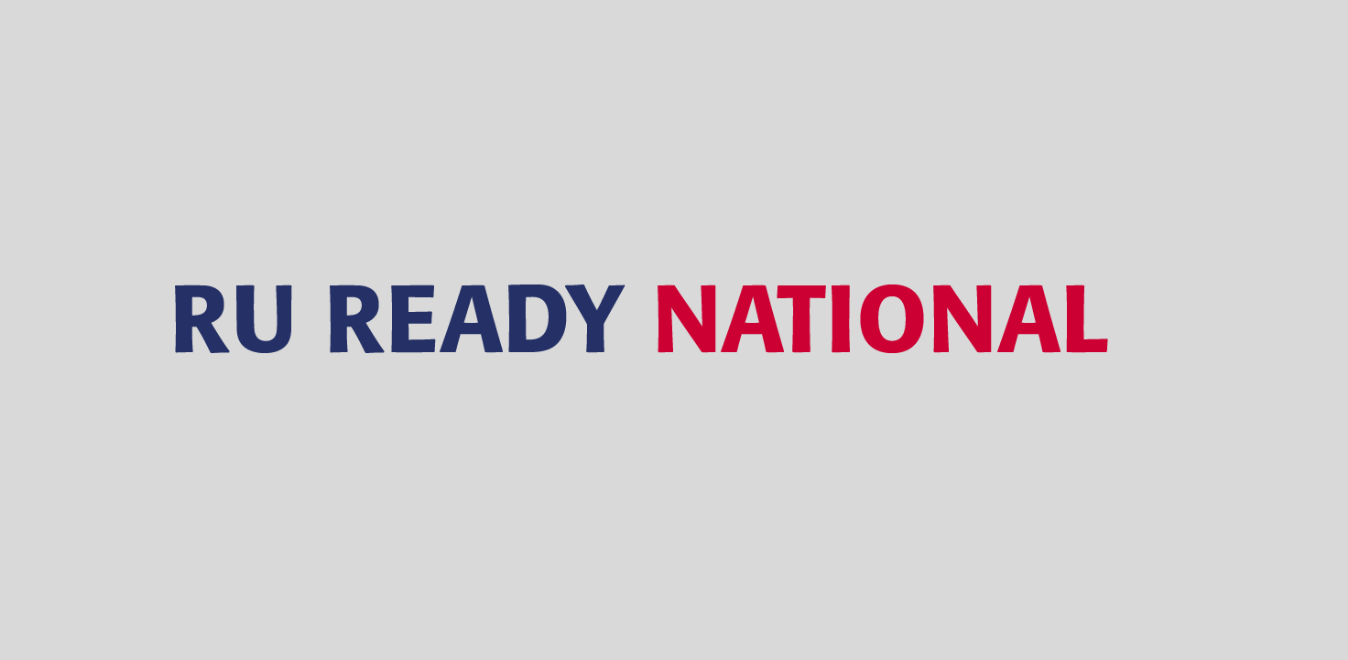 2021 Young Leaders Conference:

Agenda and Materials

Friday April 23, 2021 | 10:00AM to 12:30PM EST Zoom Technologies

Learn more about RU Ready
About the RU Ready Young Leaders Conference
Under the direction of Dr. Elizabeth Matto, Director of the Center for Youth Political Participation at Eagleton Institute of Politics, RU Ready features instructional methods that foster active citizenship. The project's hallmark is the central role played by a team of college students who work directly with local high school students and administer interactive sessions.
As a culminating activity, the RU Ready Young Leaders Conference is traditionally held at the Eagleton Institute of Politics for representatives of participating high schools. The day-long conference involves exploring youth political participation; revisiting the lessons learned in the classroom regarding avenues of civic engagement; and offering practical suggestions to young people not only interested in community involvement but in assuming leadership positions in their communities.
The 2021 RU Ready Young Leaders Conference will take place completely online for the first time since its inception and will feature college and high school students from our RU Ready National Partner Programs. 
RU Ready National Partner programs include
The University of Texas at Austin
Rutgers University-Newark
Rutgers University-New Brunswick
Drew University
10:00AM to 10:005AM EST
Welcome
The conference begins with a short period of Welcome and Introductions from:
Dr. Elizabeth C. Matto, Associate Research Professor and Director of the Center for Youth Political Participation
Heather Vaughn, Lecturer of Communications Studies and Director of Educational Outreach at the Annette Strauss Institute for Civic Life
Dean Sheronia R. Rogers, Assistant Dean for the Center for Pre-College Programs at Rutger-Newark
Kirsten Trambley, RU Ready Graduate Assistant at Drew University
10:05AM to 10:20AM EST
Breakout Room Section I
Students will be moved into pre-assigned groups and will meet their teammates, configure their zoom accounts and be introduced to the PROCESS ground rules of the conference.
Students will remain with their groups for all breakout sessions throughout the conference.
10:20AM to 10:35AM EST
Opening Keynote Address
RU Ready and high school students will hear from Kaleena Berryman, Director of the Abbott Leadership Institute (ALI) at Rutgers University-Newark
Ms. Berryman will be introduced by Janae Steggall, President of TXVotes and student at The University of Texas at Austin
Kaleena K. Berryman is a social justice advocate, community organizer, author, mentor, and program director committed to the empowerment of children, parents, women, and people of color. With a commitment to leadership development, she has empowered Newark youth and parents to raise their voices and work collaboratively to create change within their schools, neighborhoods, and community.
Kaleena earned a Bachelor's degree in Communication in 2004, with a minor in African American and& Caribbean Studies from William Paterson University. She served as President of William Paterson's college chapter of the National Association for the Advancement of Colored People (NAACP), and founded the first culturally responsive campus monthly publication, entitled UMOJA, in 2007. In January 2011, she earned a Master's degree in Public Administration from Rutgers University-Newark.
Currently, Kaleena is the Director for the Abbott Leadership Institute (ALI) at Rutgers University-Newark. ALI's mission is to teach education advocacy and family engagement skills to parents, educators, community leaders, and students in Newark, NJ. ALI's Youth Media Symposium (YMS), develops youth leaders by inspiring high school students to use the power of their voices and the media to advocate for better schools. In her role at ALI, Kaleenashe has helped develop critical programs such as the New-Ark Leaders of Health in partnership with Mayor Ras Baraka's Office of Youth and College Affairs, Parents as Partners in Extended Learning Time, Parents Empowered: Developing Your Family's Social and Emotional Learning Skills, Parent Outreach 101, and Ten Tips for the Empowered Parent. In 2015, Kaleena led Newark high school students through the process of planning and opening YMS College Success Centers in the city, which provide free college readiness assistance to students and families in Newark. Thoese centers are managedrun by Youth Media Symposium graduates. In addition to her work at ALI, Kaleena currently holds the position of President for the Organization of Black Faculty and Staff on the Rutgers- Newark campus.
In 2013, Kaleena founded Newark Circle of Sisters (NCOS), an organization of women in the city of Newark who provide service scholarships to Newark women at all stages in their advanced education pursuits. NCOS currently has over 5,000 members on social media, and 100 active members;, and the group is steadily growing. The NCOS Board hosts well attended events and meetings throughout the year in the spirit of sisterhood, support, celebration, service, and scholarship. Kaleena also serves on the board of the Statewide Parent Advocacy Network of NJ (SPANN) and Newark Mayor Ras Baraka's National Community Schools Advisory Board.
Kaleena's most important job, however, is that of mother to Jharid Jr, born 16 weeks premature in 2012. Inspired by his early birth, five month NICU stay, and cerebral palsy diagnosis, Kaleena is committed to spreading the importance of prematurity awareness. In 2016, Kaleena founded The Preemie Parent's Club, Inc., which provides support services to mothers and fathers whose babies are currently in the Neonatal Intensive Care Unit in Newark, NJ, her hometown.
As a writer of poetry and inspirational blogs, she has reached thousands of parents across the country and the world via her online preemie support network;, viral poem, "On the Day You Were Born"; and blog, Praying4MyPreemie. In 2014, Kaleena published her first book, Stronger than We Thought: Poetry for the Preemie Mom's Journey, available on Amazon.
10:35AM to 10:55AM EST
Icebreaker Activity
College students and high school students will play a virtual jeopardy game to be introduced to the four facets of engagement.
10:55AM to 11:25AM EST
Putting Words into Action: Getting Political Breakout Room
Students will hear from a panel of young elected leaders and will discuss the voter registration practices in their state through the RU Voting National website. Featured panelists include Assemblyman Ryan Peters (NJ-8) and Nohemy Zabala, Morristown Housing Commissioner.
Panelist Biographies:
Assemblyman Ryan Peters was elected to the New Jersey Assembly in 2017. During his time in office, he has fought for tax relief for New Jersey residents, including the successful elimination of New Jersey's Combat Zone Tax. Peters is actively involved in the community as a leader of nonprofit organizations. He serves as the Chairman of the Board of Directors for the Liberty USO of Pennsylvania and Southern New Jersey and as a member of the Advisory Board for Habitat for Humanity of Burlington County. Peters has an extensive military background. He is currently a Commander in the Naval Reserve, assigned to SEAL Team EIGHTEEN. The assemblyman is a South Jersey native and attended Holy Cross High School in Delran. He then went on to attend the United States Naval Academy in Maryland, where he was the captain of the Division I soccer team. Upon finishing at the Naval Academy in 2004, he completed Navy SEAL training and served three combat deployments in Iraq and Afghanistan. In 2012, Peters graduated from Rutgers School of Law, where he served as the President of the Student Bar Association, the Editor-in-Chief of the Rutgers Journal of Law and Religion, and as a Henry J. Raimondo Legislative Fellow with the Eagleton Institute of Politics. Following his graduation, he was recalled to active duty to serve his fourth tour of duty. Upon his return, the assemblyman desired to continue his career in public service. In November of 2015, Peters was elected to the Burlington County Board of Chosen Freeholders. During his time on the board, he helped lower the county budget and taxes.
Nohemy Zabala is a senior at Drew University with a double-major in Business and Political Science and a minor in Law, Justice, and Society. At Drew, she is part of the Civic Scholar Program which requires her to excel academically while fulfilling a demanding curriculum with an orientation in social-justice and community leadership. As one of her Civic Scholar requirements, Nohemy completes over 100 hours of community service annually. As an undergraduate student she has volunteered and interned at multiple organizations, some of which include The Superior Court of New Jersey, Morristown Neighborhood House, The Morris County Organization for Hispanic Affairs' Center for Citizenship and Legal Immigration, the Morristown Partnership and Madison Borough. In January 2021, she was sworn in as a Commissioner for the Morristown Housing Authority, an equal housing opportunity agency that provides affordable housing for low-to-moderate income families and seniors, and is recognized by the U.S. Department of Housing and Urban Development as a high performing operation. After graduating, she will attend law school in the tri-state area as she aspires to continue giving back to the community one way or another and eventually forming her own non-profit organization to focus on helping children of underserved communities.
Putting Words into Action: Speaking Out Breakout Room
Students will take time to discuss issues that are most important and how they can use their interests to activate change in their schools. Hearing from current Rutgers University-Newark undergraduates, this breakout room will feature the following panelists; Tanvi Patel, Vice President of the Pre-Law Society at Rutgers University-Newark and Ricky Castaneda, Political Director of Progressive Democrats at Rutgers University-Newark
Panelist Biographies:
Tanvi Patel is a passionate student leader and advocate, fighting for causes like Black Lives Matter, LGBTQ+ rights, and Women's rights. She is a junior at Rutgers University-Newark and currently serves on two executive boards. She is the Vice President of the Rutgers-Newark Pre-Law Society and the Communications Director for the Progressive Democrats of Rutgers-Newark. Additional to these roles, she wears many hats in the Rutgers-Newark Student Governing Association: Speaker of the Senate, School of Criminal Justice Senator, Internal Affairs Chair, and Public Safety Committee Chair. Recently, she was nominated and selected as the Rutgers-University representative for the Newman Civic Fellowship which recognizes and supports active student leaders. She hopes to continue to be a social justice advocate in the future through the privileged position of an Attorney.
Ricky Castaneda is an advocate from Elizabeth, NJ. Castaneda is currently a student at Rutgers University Newark, double majoring in Political Science and Sociology. Castaneda currently serves as the Political Director of the Progressive Democrats of Rutgers University-Newark. Ricky also is the School of Arts & Sciences-Newark Representative to the University Senate.
Putting Words into Action: Paying Attention Breakout Room
College students will lead a discussion on political representation and discourse found in the media, as well among families, friends, and peers. Students will hear from Issac Rogers, Host of American Millennial podcast and join in discussion topics ranging from healthy skepticism to respectful discourse.
Panelist Biography: Isaac Rogers (he / him / his) is the producer and host of the Millennial America podcast. He was born in southern Illinois, and he currently lives in Las Vegas, Nevada. While studying political science at the University of Nevada in Las Vegas, Isaac plans to work as a public servant after graduation though he is currently running for numerous positions of student leadership. Isaac is a member of the LGBTQIA+ community, and he wants to change the world for his nephews and future generations.
Putting Words into Action: Volunteering Breakout Room
College student leaders will reflect on their own civic engagement as a way to share about who they are, and provide an opportunity for all students to share issues they are passionate about and will identify best-practices for pursuing service opportunities.
11:25AM to 11:40AM EST
Introduction to Civic Action Project
Following the breakout rooms, students will reconvene into the main Zoom room and will be introduced via a short video to the fictional scenario they will be addressing in their civic action problem
Fictional Scenario: Reduction in Recycling in Local School District
11:40AM to 11:50AM EST
Break and Optional Activities
Students will have the opportunity to participate in optional breakout rooms during the break period. Rooms will include:
Mindfulness Breakout Room
Q&A with Current College Students
Game Room
Let's Connect/Music Breakout Room
11:50AM to 12:15PM EST
Address and Build Your Civic Action Project
Students will reconvene back into their breakout rooms, discuss a fictional problem, and discuss the ways their particular facet of engagement could be utilized to address the issue.
Once reconvened in their breakout rooms, students will:
Introduce the fictional scenario
Fictional Scenario: Reduction in Recycling in the School District
Discuss how their particular facet could be utilized to address this problem
Students will move into their assigned breakout rooms and address their civic action problem
Group I: Raising Awareness for Fictional Scenario in Opposition of Resolution
Group II: Protest in Opposition of Resolution
Group III: Write a Letter to the Board of Education in opposition of the Resolution
Group IV: Protest in Support of Resolution
Group V: Respectful Discourse Discussion
Group VI: Stump Speech in Support of Resolution
Group VII: Raising Awareness for Fictional Scenario in Support of Resolution
Group VIII: Stump Speech in Opposition of Resolution
12:15PM to 12:30PM EST
Presentations and Closing Remarks
Students will join the main zoom room and will present their plans demonstrating either support or opposition of Resolution 8.
The Closing program will feature a short presentation of certificates and Highlights and Heroes.
A Special Thank You to:
The Darien Fund for the US Constitution, Citizenship and Civic Education
Maury Lieberman and Leslie Scallet
The administrators of New Brunswick High School, American History High School, the Anne Richards School for Young Women Leaders and Orange High School
Dean Sheronia Rogers and Shannon Thomas
Heather Vaughn
Dr. Amy Koritz and Kirsten Trambley